Recent Updates
Latest News, Updates and Publications
03.01.2018
post added
---
29.12.2017
post added
---
15.12.2017
post added
---
17.11.2017
post added
---
14.11.2017
article added
SW1X Audio Design Product Versions: Standard vs Special vs Signature
---
18.09.2017
post added

---
10.09.2017
post added
---
20.08.2017
New review of SW1X DAC I & II published

---
19.08.2017
article added
---
30.07.2017
Time waits for No-One… article by P. Qvortrup added in the Technology section
---
03.07.2017
I/V Conversion Frequently Asked Questions (FAQ) section has been published. It can be accessed from the Technology section or by clicking here.
---
26.06.2017
Production Update Announcement:
From now on the Standard versions of DAC I and LPU I will be wired with copper wires by default. DAC I will only be available in two versions either Passive (via resistor) or Active (via special transistor) I/U. Generally, all our performance level 1 products are going to be predominantly copper wired, performance level 2 about 50/50 copper/silver wired and performance level 3 predominantly silver wired. The standard version of DAC III could be also wired in copper on special request. All our Signature version products are wired in silver as usual.
We recently discovered an excellent sounding Germanium transistor for the I/U conversion stage. It has a even softer, warmer & tubey sounding character than the Silicon based transistor we have been using so far. Both transistor types are excellent sounding but do have a different character. If those transistor were humans, Silicon transistor would be a macho type of man and Germanium would be a gentle & warm but an expressive character type of woman.
Furthermore, Signature and Special versions of our DACs will from now on be equipped with the Germanium I/U transistor instead of Silicon. The Standard versions of our DACs will be offered with a specially selected Silicon transistor, which has slightly more grungy sound character.
Everything else remains in our products remains as defined by the SW1X Audio Design Performance Level System
All our existing customers who purchased a Signature version of our DACs have an option to send their DACs to us for a free of charge upgrade.
---
15.06.2017
article added "What makes SW1X Audio Design sound? "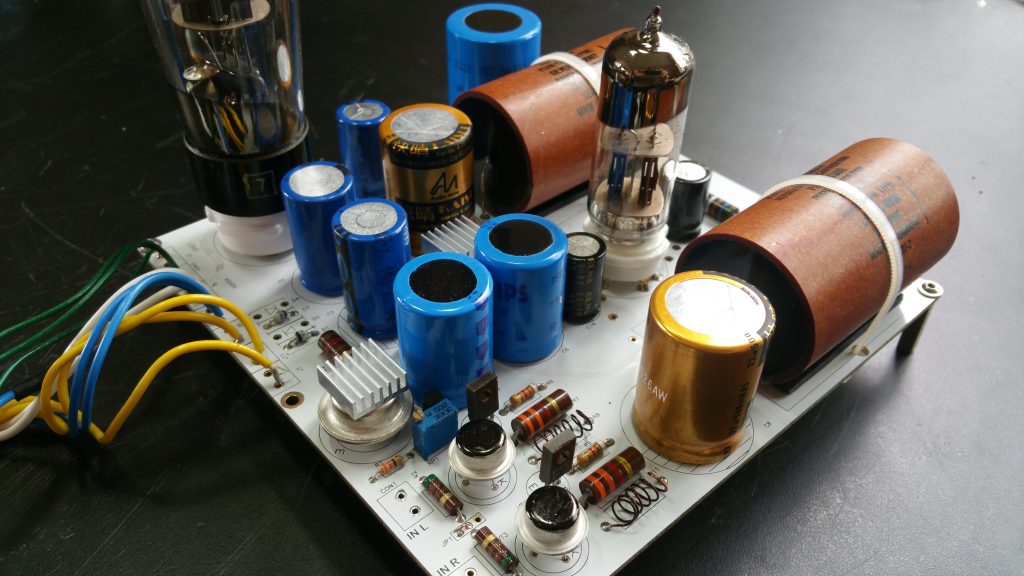 ---
09.06.2017
SW1X DAC II & DAC III updated with white PCBs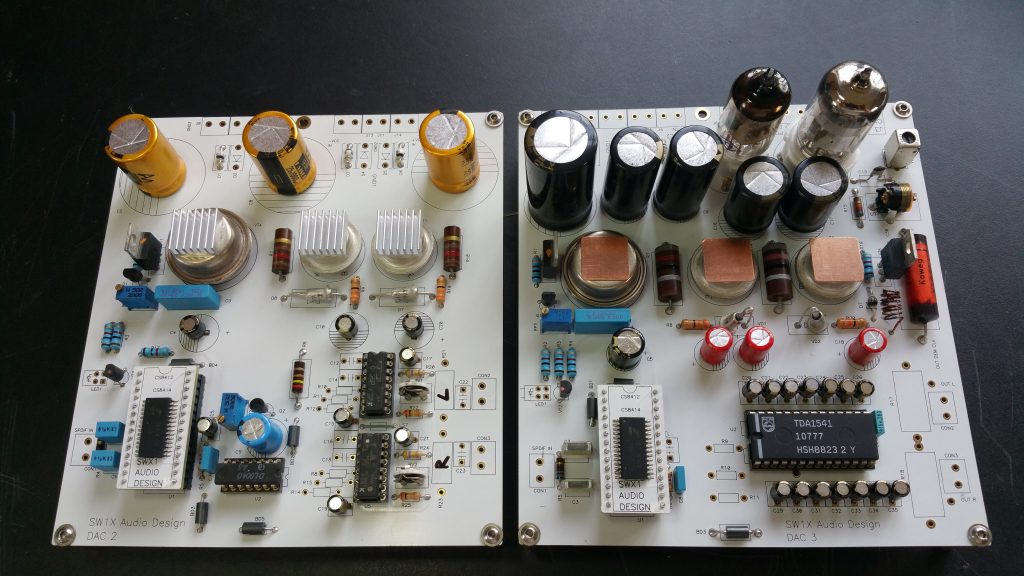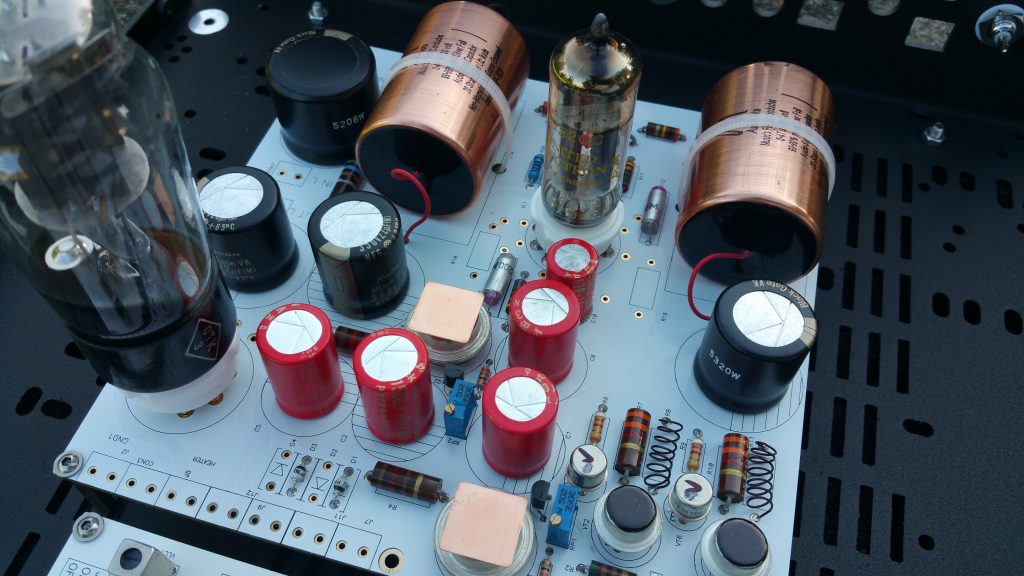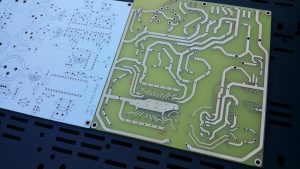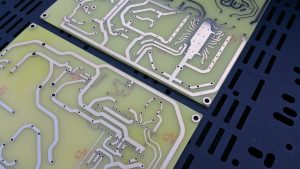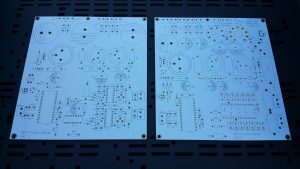 ---
02.06.2017
SW1X LPU II choke loaded EL84 valve output stage phone pre-amplifier released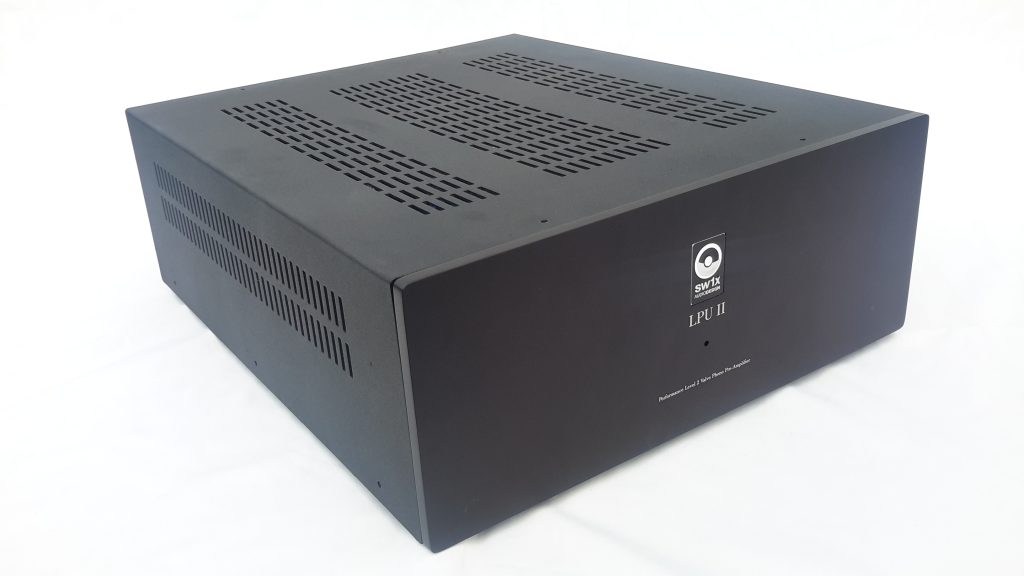 ---
09.05.2017
Black front panels are available now

All SW1X products will henceforth be available in either matte black or brushed alu silver fascia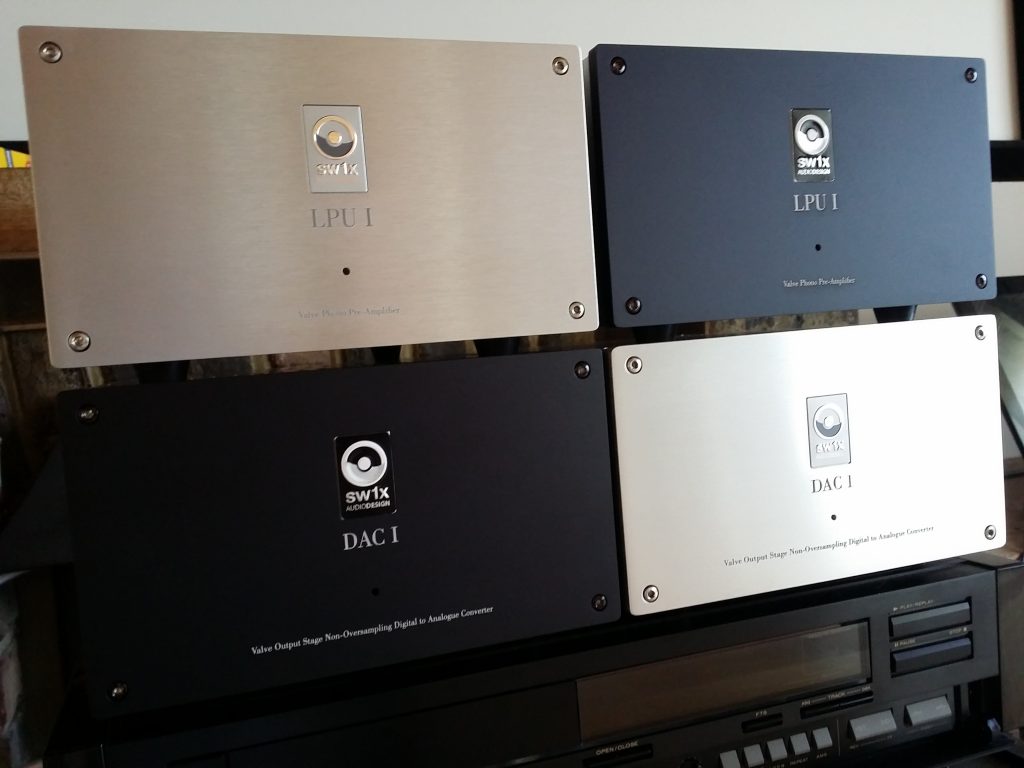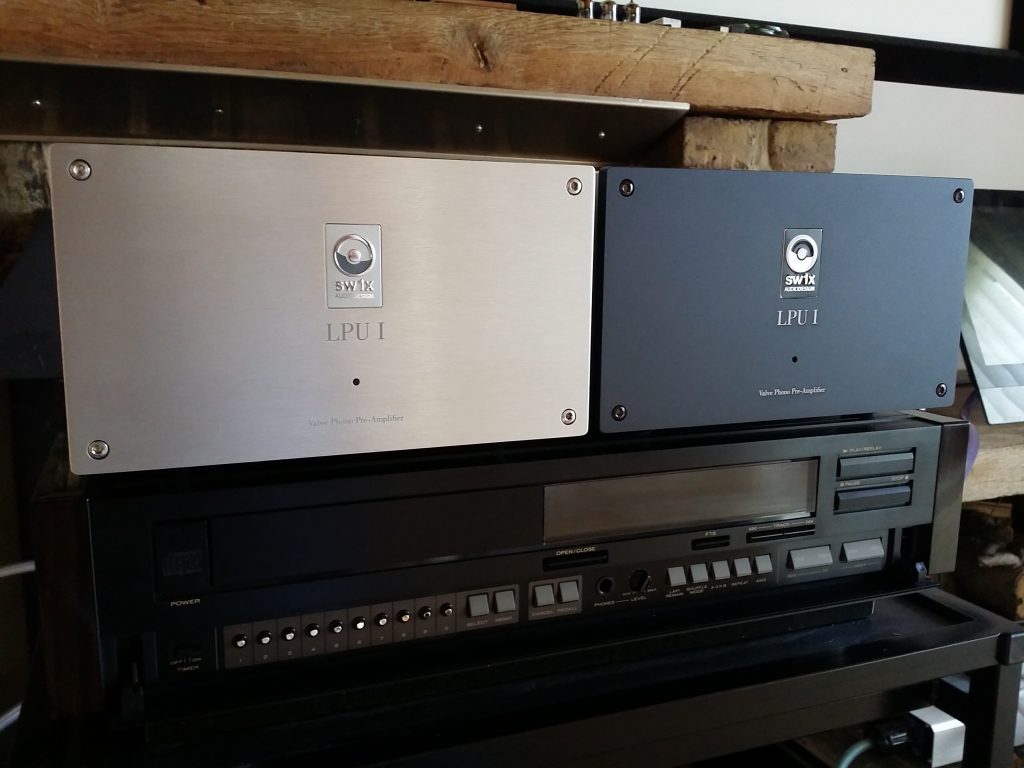 ---
05.05.2017
SW1X DAC I  Standard Passive I/V version
The SW1X DAC I Standard version is now available with two different I/V conversion techniques: Active or Passive. While the active current to voltage (I/V) conversion via a single specially selected transistor matches the impedance better between DAC current out and the valve grid, passive conversion via a resistor provides an alternative solution with a different sound signature.
Difference in sound between Passive and Active I/V (current to voltage) conversion
There are distinct difference in sound between those conversion techniques, implemented in Active and Passive versions of SW1X DAC I. While the sound of active I/V over a specially selected transistor has a better "dynamic bite", the passive resistor I/V method gives a more relaxed feeling to the sound. On the one hand, Active I/V of DAC I has an edge over Passive I/V in resolving details, on the other, passive I/V provides a more organic envelope to the texture of music. Both conversion techniques have merits with a particular music in mind: Active I/V version will particularly excel with energized Rock or Electronic type of music while Passive I/V will sound more harmonically with Jazzy or Classical type of music.
The picture below depicts a Passive I/V version of DAC I.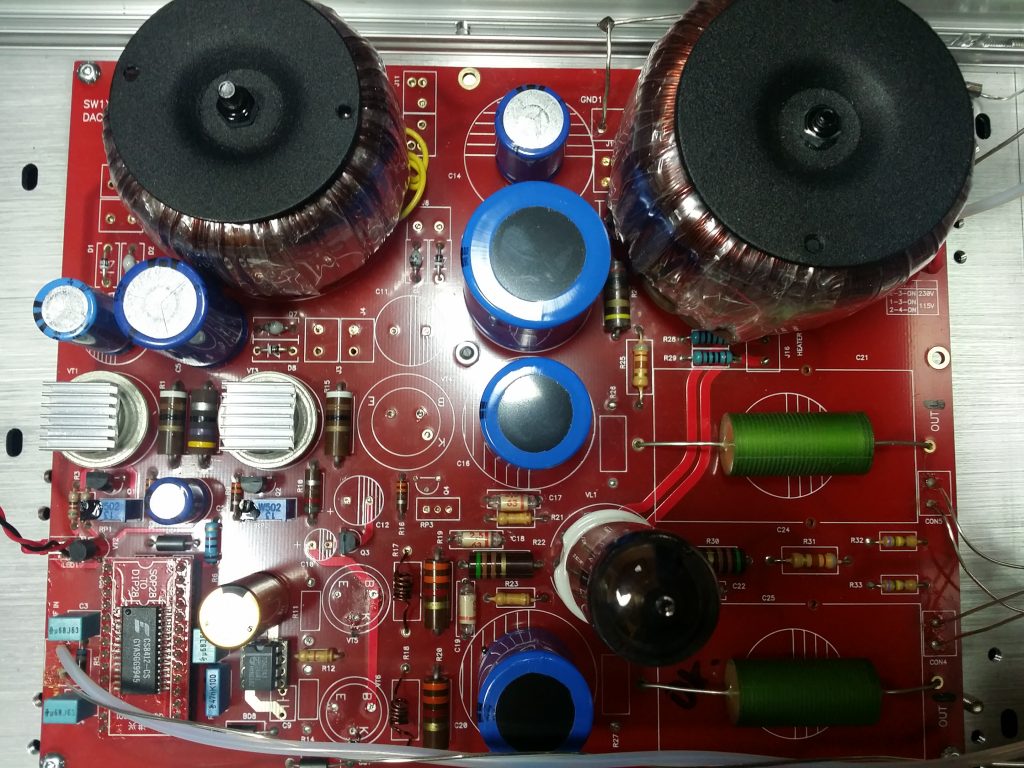 ---
21.02.2017
SW1X LPU I phono stage released.
More information can be found here: http://sw1xad.co.uk/product/sw1x-lpu-1/
The review of the LPU I can be accessed here:
---
17.01.2017
We are very pleased to announce a new Distributor in South East England for our products:

Deco Audio
Kempson Close
Aylesbury
Buckinghamshire
HP19 8UQ
Tel: 01296 422224
---
15.10.2016
SW1X Audio DesignTM Large Capacitor Shoot Out
Here is a Shoot Out with a difference. You will be used to auditioning Hi Fi components, but now comes the opportunity to audition just a single component within a DAC and gain an insight into the painstaking process of voicing audio components. The subject of the shoot out is electrolytic capacitors with over 1000uF capacity.
Due to our continuous dedication to improve the quality of sound we routinely carry out voicing for all the parts we are employing in SW1X Audio Design products. We are researching the market for better sounding materials and components. On this occasion audio enthusiasts and music lovers are welcome to participate in judging the sound. It is a unique opportunity to find out how passive components (in this case capacitors) sound, even though buried and often ignored inside your audio equipment. Unfortunately the number of referees is limited to 5, therefore do not hesitate to apply to secure yourself a place.
The approach is quite straight forward. We are looking to control for just one factor i.e. one cap in one position. All burned in caps are substituted one by one into a power supply of I/V conversion stage of 2 identical SW1X DAC 1s (one DAC is the reference). We will audition all caps in the form of a blind test i.e. all caps will be covered and marked with a number. We then will play all caps sequentially for duration of a short song. The referees write down their impressions (either freestyle or on a predefined form) and either discuss them immediately or later after the end of the run.
Refreshments will be served
The objective is to find a cap that sounds least compromised in all aspects.
Everything being relative, we are interested in opinions on a larger scale. There are currently over 10 capacitors short listed but we are open to suggestions. Current list includes:
Rubycon Black Gate STD, AN Kaisei, AN Standard, ZLH
Elna Silmics, Cerafines, Tonerex, Startget, RA3, RE3,
Philips 037, 046, 048, 047, 135, 136 Series
Panasonic Pureism, FM
Nichicon Muse KZ, FG
Of course, the list is far from complete. So feel free to suggest or bring any other capacitor with you for the contest.
The venue is located in Coggeshall, 25min off Stansted Airport
Date and time: noon time, Saturday the 22th or Friday, the 4th of November. The date will be selected to suit the appropriate numbers of people wishing to attend.
There will almost certainly be opportunity to listen to a hierarchy of up to three different complete audio systems within the SW1X household.
Should you be interested, please do not hesitate to get in touch with us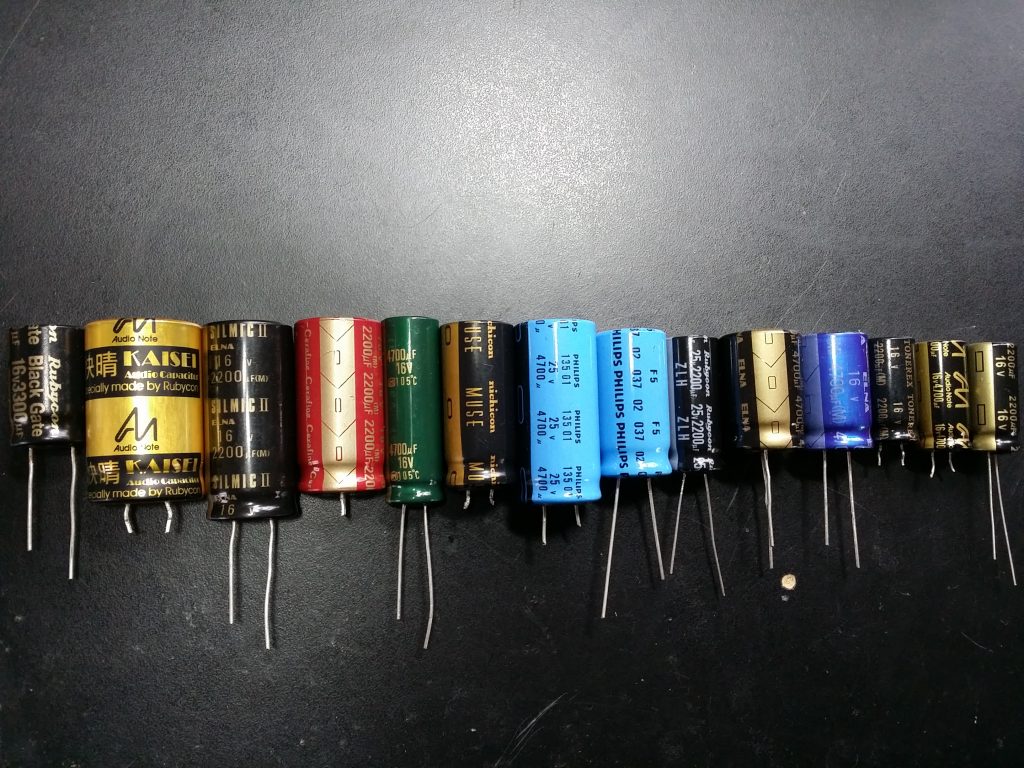 ---
24.09.2016
Dear Audiophiles and Music Lovers,
Important information regarding SW1X Audio Design products- please read on.
All new SW1X branded products will be henceforth available throughout our dealership network.
Due to legally binding agreement with our dealers, the period of promotional prices is coming to an end. The prices will gradually be increased in the coming months.
Consequently the prices are set to go up by 40% in the near future. Initial price adjustment is planned for the mid of October 2016. The final price increase to the dealer retail price level is scheduled for the end of this year.
We would like to express our gratitude for all your loyalty and support.
SW1X Audio Design team
24.08.2016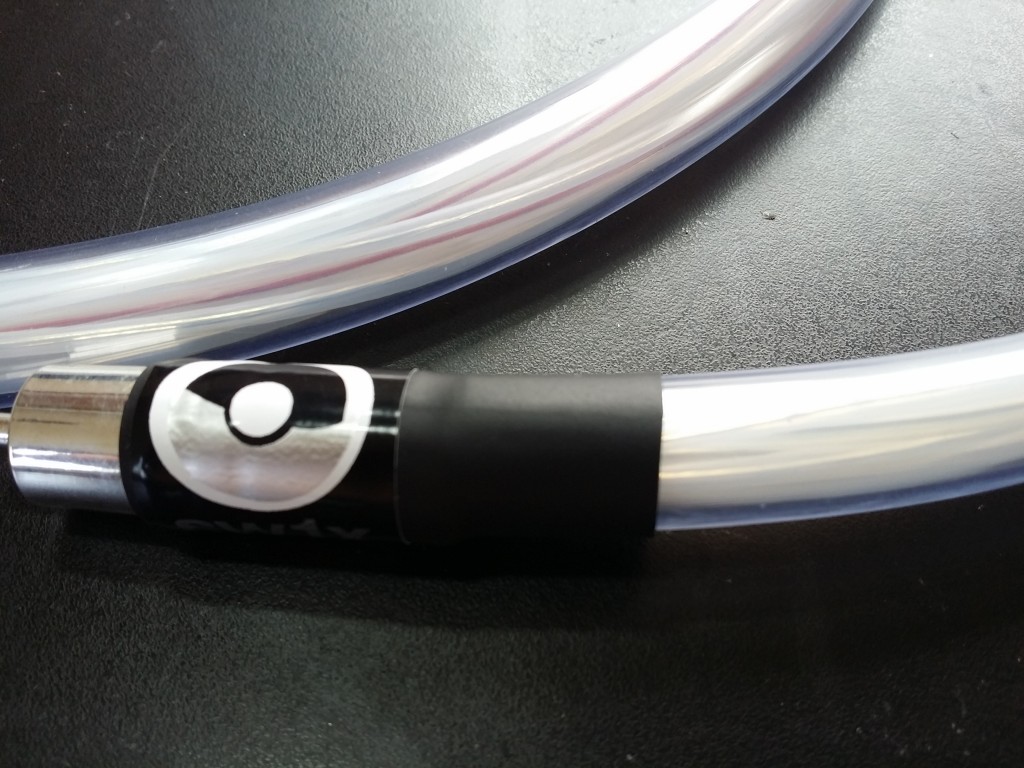 The AERO cable section has been updated. It can be accessed here:
http://sw1xad.co.uk/product/sw1x-solid-silver-aero-series-cables/
---
01.07.2016
A review of SW1X DAC 1 Signature has been published on the HiFi WigWam forum. It can be accessed here:

http://www.hifiwigwam.com/sw1x-audio-design-dac-1-signature-a-review-by-kevin-fiske/
---
19.06.2016
Introducing UMS 1 Universal Music Server  and PSU 1 Linear Power Supply
Specs coming soon
complete Level 1 digital front end – just connect it to the rest of your system
---
06.06.2016
New red PCBs and silver finish chassis with the same SW1X Audio Design concept