SW1X Performance System
SW1X Audio Design® Product Performance System
"Every accomplishment starts with a decision to try." – Unknown
Very few products on the market can be considered to be truly without compromise. Some manufacturers do not recognise the significance of components and material quality, some are more concerned with profit making rather than the quality of sound but in many cases it is simply due to budgetary constraints. Contrary to that, the product range of SW1X Audio Design™ is built around musical performance levels from which we developed a range of product versions and with their corresponding price levels. The ultimate objective is to allow our customers and distributors to select and build systems of superior sound quality and longer lasting value. The performance level system is created to demonstrate that increases in price correspond with suitable improvements in sound quality.
In essence, SW1X Audio Design™ Performance Level is an indicator of the quality of sound our customers can expect from the SW1X Audio Design™ product they are looking at. The goal is to help you in your search for the highest level of sound quality for your money. SW1X Audio Design™ products are offered on 6 performance/price levels. At each performance level, we offer products usually in 6 versions: Signature, Classic, Balanced/Special, SPX and Standard – all versions are sharing similar design concept but differ in the tube amplification topology, sophistication of power supplies, material & components quality and the degree of harmonic matching.
The difference between each performance level is predominantly defined by the sophistication of High Voltage and Low Voltage power supplies, while the versions of the products at any given performance level are driven predomintly by the components & material quality. At higher performance levels the power supplies have further improved filtering, more independent rails and also utilise more exotic components (better sounding conductors, better resistors and capacitors) by default. Higher performance levels & versions pass even more low level musical information (better dynamics, harmonics and more balanced tonality) and therefore provide even more refinement and musicality especially when partnered with other high performance equipment. Every component and material is carefully selected and harmonically matched to maximise the musicality at each performance level.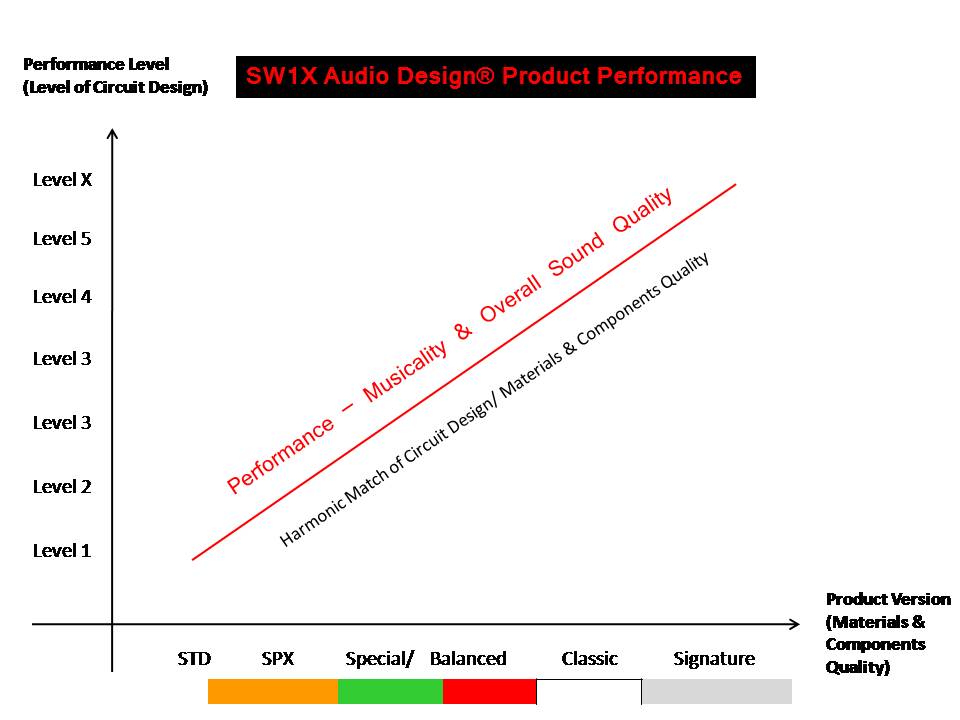 While the Standard (STD) version comes with high quality components, limited production Signature versions use only the finest components available taking the potential to another level of performance.  Since there is nothing left to upgrade, Signature and Classic versions is what we consider truely timeless. Balanced versions (and all the products from level 4 upwards by their design) are a step up from STD and SPX versions- they employ signal output transformer de-coupled topology and provides two type of signal outputs: true balanced and also single ended. Special and SPX versions are the ones that employ specially selected materials & components graded between Standard and Signature version (with custom options), features improved power supply and shares some of the technological aspects borrowed from higher performance level.
While all our products have musicality in their DNA, the higher performance level products offer more refinement, uncover more holography and add more authority and scale to the presentation. Each version at each corresponding performance level is priced accordingly: the higher the musical performance & refinement, the higher the cost of the materials and components, the higher the price. Generally, all product version can be summarized according to their a) signal output stage topology & b) materials & components quality:
Standard (STD) versions = basic versions with small signal tube output stage, Resistor loaded, Capacitor de-coupled, RC topology
SPX Versions = Maxed out STD version with the finest materials & components
Special/Balanced versions = fully charged version based on a more sophisticated tube output stage & tube power supply design, without being too exotic materials & componets quality versions usually with power tube output stage, Inductor (choke) loaded, Capacitor de-coupled LC in Special version or Inductively loaded, Inductively de-coupled (signal output transformer, OPT) LL topology in Balanced versions (which have both true Balanced and SE signal output)

Balanced are signal OPT based versions or all perfromance level 4 & 5 products by default
Classic versions = Balanced versions, which are equipped with the specially selected or with exotic components & materials.
Signature versions =  limited production versions with no expense spared exotic materials, maxed all out Balanced versions with power tube output stage, LL topology with silver wound signal (OPT) output transformers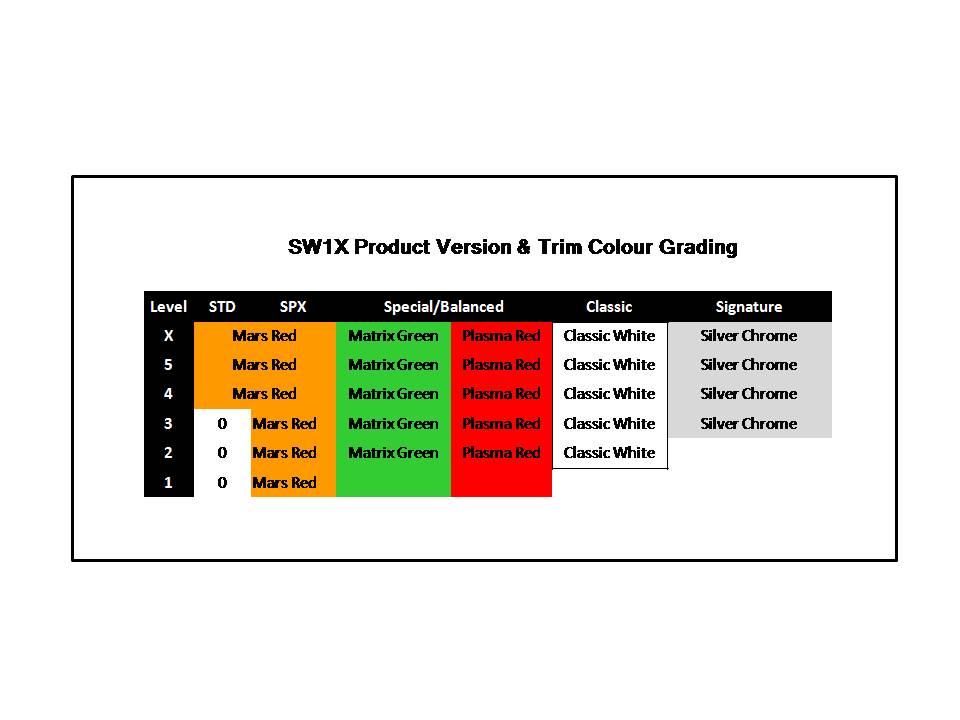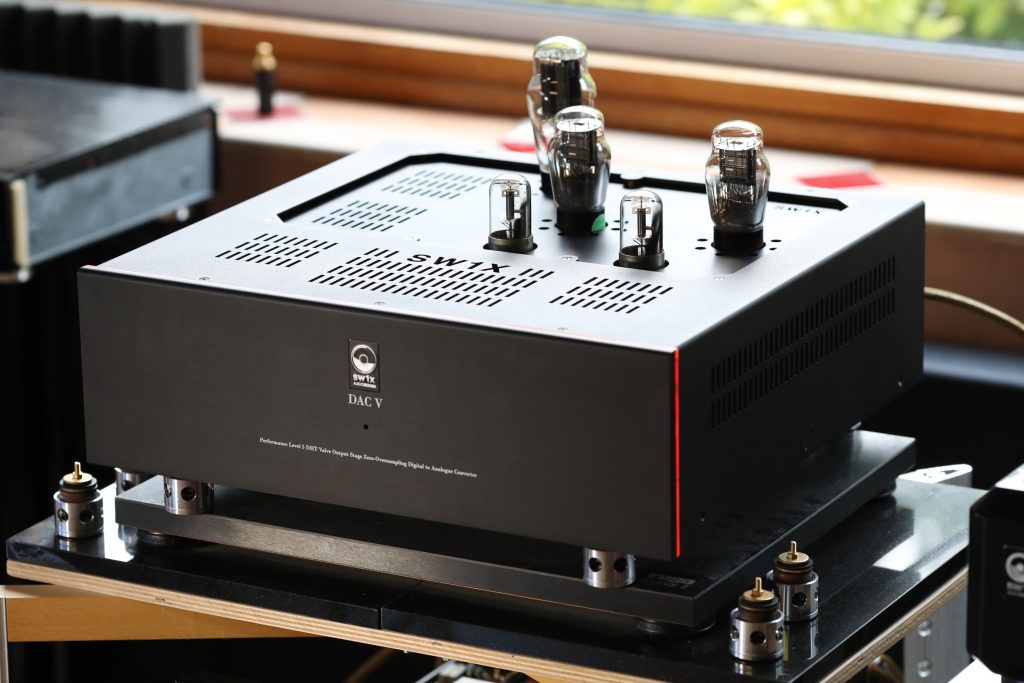 In essence, SW1X Audio Design® Performance Level/Version is an indicator of the quality of sound our customers can expect from the SW1X Audio Design® product they are looking at.