DHT Digital to Analogue Converter

DAC X is our Statement Level X Digital to Analogue Converter.
Statement Level X represenst a pinnacle of SW1X engineering and DAC X is a culmination of all our know how and technology from our DAC product line up (DAC I-V) in one chassis.
It is the most musical, organic & natural sounding DAC we have designed to date. The musical performance of the DAC X re-defines what was thought is possible from a digital playback.
When partnered with a matching VDT digital source, its analogue character is indistinguashable from the best RTR and Vinyl playback.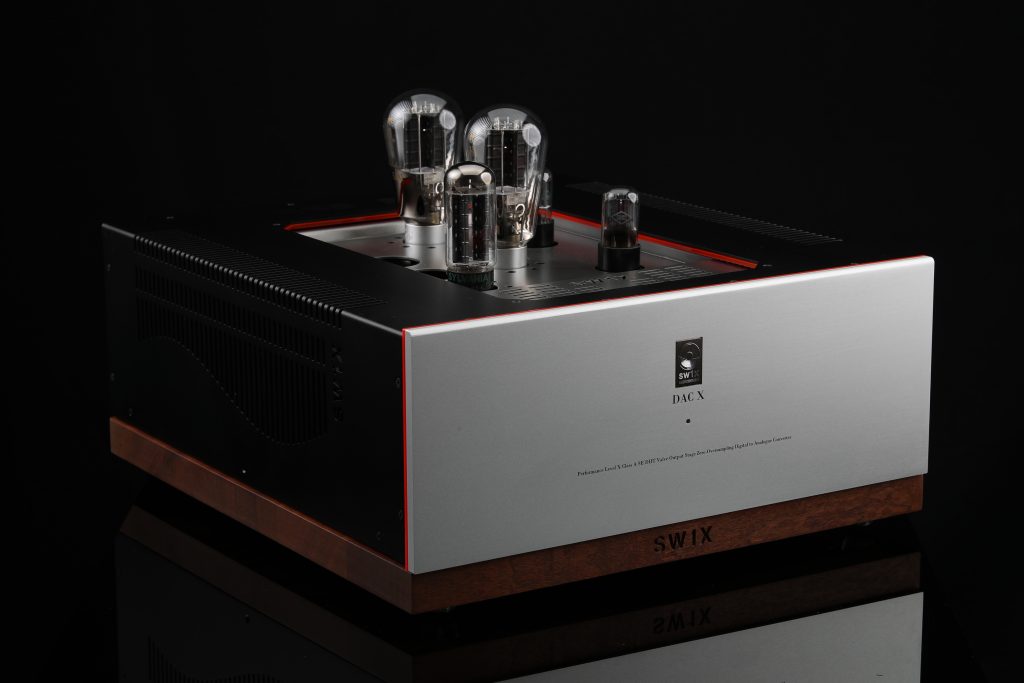 SW1X Audio Design™ DAC X Features:
Pure & Elegant NOS (Non oversampling – zero digital domain filtering) R2R Design
Balanced (& Single Ended) Signal Output Transformer (OPT) de-coupled Valve Output Stage Topology
Zero NFB, Single Ended, Class A, Directly Heated Power Triode Valve Power Output Stage
Quasi Dual Mono, Directly Heated Double Diode Valve Rectified B+ Power Supply

Power Supplies based on 11 x Transformers in Total: 6 x Power Transformers, 2 x Signal Output Transformers, 2 x Signal Input Transformers, 1 x RF Transformer plus 3 x Filtering Chokes

Dynamic Element Matching (DEM) regulated by Valve Clock, powered by Valve Rectified & Choke Filtered Power Supply
Discrete Transistor, Shunt Voltage Regulated Low Voltage Power Supplies
Active I/U Conversion Stage
Specially Selected and Harmonically Matched Component & Material Quality
Specially treated SW1X Audio Design™ 80% Nickel Mumetal Core Intefrace Transformer
Fully Hardwired Tube Output Stage on the Bakelite/Panzerholz wood Board
SW1X Audio Design™ Custom Designed & Fully or Partly Silver wound Super HiB DC core Signal Output Transformers
Super HiB double C-Core mains transformers for the digital and DHT/DHD power supplies or M6 grain orient EI core Mains Transformers & Chokes
Internally wired exclusively with our SW1X Magnum, Genesis and Opus conductors of various geometry (single strand or Litz)
AN Copper Foil in Oil or Silver foil interstage Signal de-coupling Capacitors
AB 2W non-magnetic Carbon film Resistors
Exotic Hardwood Chassis Base
Tube Compliment (15 Valves in Total): 
1 x EC86, 1 x EZ80 (Digital Input),
1 x 6V6, 1 x EZ80 (DEM Osciallator),
1 x 5Y3, 2 x EZ81 (DAC Section),
2 x EZ81 (Active I/V B+),
2 x 6J5 (Input Gain Stage),
2 x 45 (Analogue Output Stage),
2 x 5U4GB (Output Stage B+),

DAC X is available in following versions with a following output transformer (OPTs) specifications:
Standard : SW1X Audio Design™ all Copper wound, orient grain M6 EI Core OPTs
Special :  SW1X Audio Design™ all Copper wound Super HiB DC Core OPTs
Classic : SW1X Audio Design™ Copper/Silver Windings, Super HiB DC Core OPTs
Signature : SW1X Audio Design™ Silver/Silver Windings, Super HiB DC Core OPTs
DAC V is available in matte Black or satin Silver front fascia and following top panel options:
Anodized Aluminum in satin Silver or Black finish (standard)
Brushed Brass (yellow glow)
Brushed Pure Copper (orange glow)
Paint Finishes any of the ones stated below:
a) satin Audi Metallic Grey
b) gloss Gunmetal Black
c) gloss Porsche Guards Red
d) Black-Silver Hammered Vintage Paint finish
or any automotive paint on special request
Note: Due to SW1X Audio Design's ongoing research and development process, specifications are subject to change without notice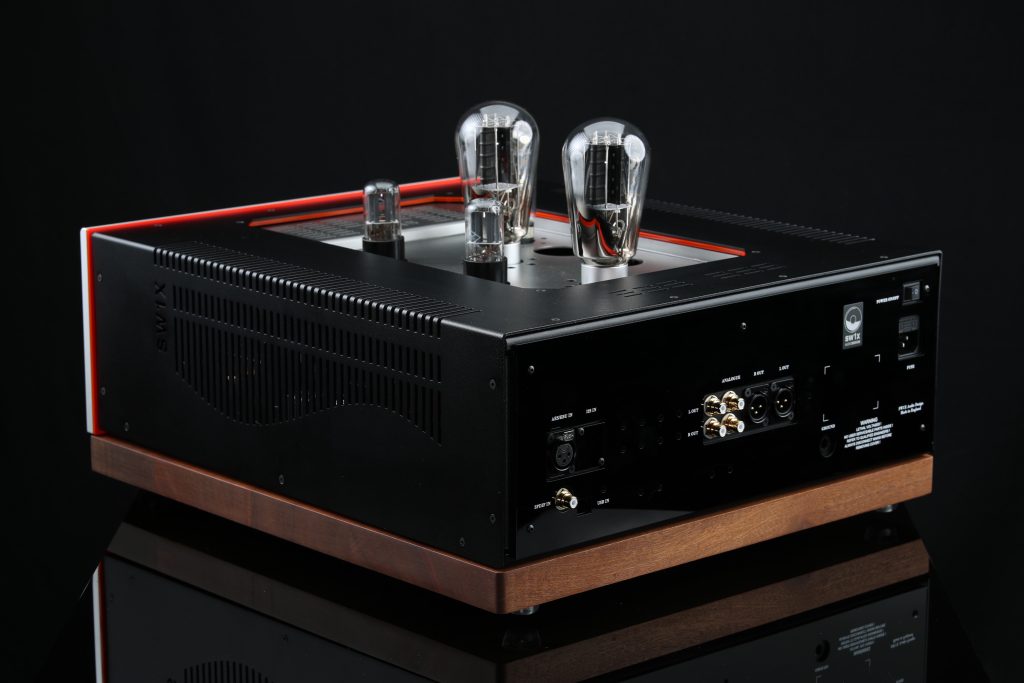 Specifications
Dimensions: Height (mm) 350 x Width (mm) 440 x Depth (mm) 450
Weight (kg): 35
Max Power Consumption (W): 300
Output Noise, Unweighted (mVrms): < 0.5
Output Impedance (Ohms): <100
Products Price List