D to A Converter
The Balanced version is a non compromise tube output stage DAC II and a smaller brother to the DAC III Balanced.
The number of PCM56 R2R DACs is doubled to 4 pieces (2x per channel), whereas the STD & SPX versions employ 2 x PCM56 (1x per channel) .
Similar to the DAC III Balanced, DAC II Balanced comes equipped with a EL82/EL84 power tube output stage. The step up in transparency over the STD & SPX versions is provided by a signal output transformer (OPT) de-coupled power tube output stage driven by the active I/V conversion stage for an even more dynamic bite.
Also available in Balanced Special version with 6V6 tube output stage similar to the DAC IV.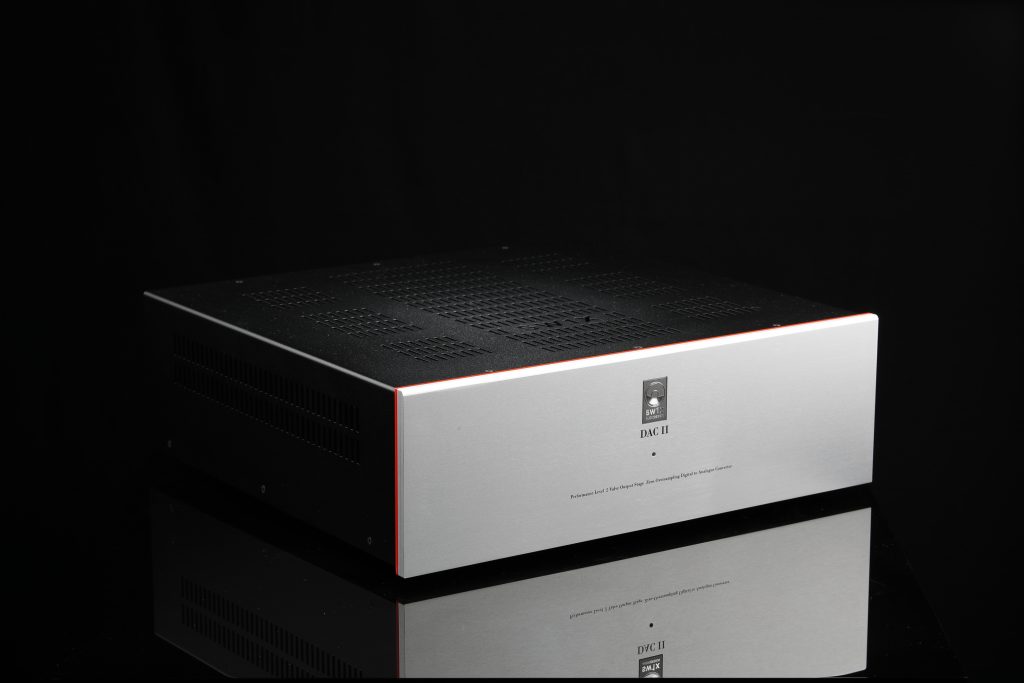 SW1X Audio Design™ DAC II Balanced Features:
Digital side is based on 4 x PCM56 (2x per channel) R2R DACs
Balanced (& Single Ended) Signal Output Transformer de-coupled Valve Output Stage Topology
EL84 Power Output Tubes, Zero NFB, Class A, Valve Output Stage
Active I/V conversion via a special transistor (with less than 10 Ohm input impedance)
Discrete Transistor, Shunt Voltage Regulated Low Voltage Power Supplies
5U4GYB/5R4GYB Directly Heated Valve rectified CLC (choke filtered) B+ Power Supply
Specially Selected and Harmonically Matched Component & Material Quality
Specially treated SW1X Audio Design™ 80% Nickel Mumetal Core Intefrace Transformer
SW1X Audio Design™ Copper wound M6 EI core Signal Output Transformers
M6 grain orient EI core Mains Transformers & Chokes
Internally wired exclusively with our SW1X Magnum, Genesis and Opus conductors of various geometry (single strand or Litz)
AN Copper Foil in Oil interstage signal de-coupling Capacitors
AB 2W non-magnetic Carbon film Resistors in selected places
Tube Compliment:  2 x EL82 or EL82, 1 x 5R4GYB

Note: Due to SW1X Audio Design's ongoing research and development process, specifications are subject to change without notice.
Specifications
Dimensions: Height (mm) 150 x Width (mm) 450 x Depth (mm) 410
Weight (kg): 17
Max Power Consumption (W): 23
Output Noise, Unweighted (mVrms): < 0.5
Output Impedance (Ohms): <100
Ordering
We do not recommend purchasing a key system component without first auditioning it carefully, which is why we have demonstration rooms and a flexible home loan policy.
However in certain situations it can be difficult for people to get to our showroom and for those instances we can offer our mail order service.
Products Price List