71A/45 DHT Digital to Analogue Converter

Similar to the DAC III Balanced & the DAC IV, DAC V is Signal Output Transformer (OPT) de-coupled yet is amplified by Directly Heated Triodes and powered by Directly Heated Valve Rectified Quasi Dual Mono Power Supply.
Signal Output Transformer (OPT) de-coupling of the Directly Heated Valve Output Stage is the closest approximation to a truely "invisibly" sounding DAC.
Available in different versions: Special, Classic and the limited Signature version with different power output transformer options (M6 EI, SHiB and UHiB DC cores) and all Copper, Copper/Silver or all Silver wiring.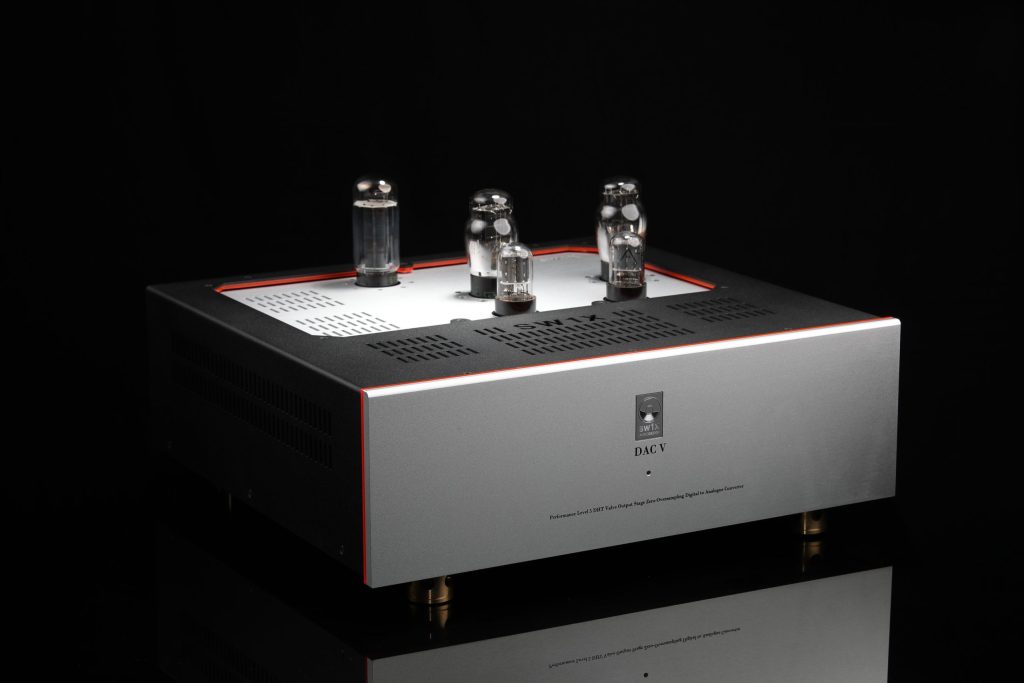 SW1X Audio Design™ DAC V Features:
Balanced (& Single Ended) Signal Output Transformer (OPT) de-coupled Valve Output Stage Topology
Zero NFB, Single Ended, Class A, Directly Heated Power Triode Valve Power Output Stage
Quasi Dual Mono, Directly Heated Double Diode Valve Rectified B+ Power Supply
Dynamic Element Matching (DEM) regulated by Valve Clock, powered by Valve Rectified & Choke Filtered Power Supply
Discrete Transistor, Shunt Voltage Regulated Low Voltage Power Supplies
Specially Selected and Harmonically Matched Component & Material Quality
SW1X Audio Design™ Signal OPTs
Specially treated SW1X Audio Design™ 80% Nickel Mumetal Core Intefrace Transformer
M6 grain orient EI core Mains Transformers & Chokes (SHiB double C-core available as an option)
Black Gate de-coupling Capacitors for TDA1541 DAC
Internally wired exclusively with our SW1X Magnum, Genesis and Opus conductors of various geometry (single strand or Litz)
AN Copper Foil in Oil (or Silver foil on request) interstage Signal de-coupling Capacitors
AB 2W non-magnetic Carbon film Resistors
Tube Compliment:  2 x 6SL7 or 6SN7 (2 x 6J5 with active I/V Special/Classic & Signature versions),
2 x 45 or 2 x 71A, 1 x 5Z3/80 or 5U4G, 1 x 5Y3, 1 x EC86, 1 x 6X4
DAC V is available in following versions:

DAC V is avaiable with a following output transformer (OPTs) specifications:
Standard : SW1X Audio Design™ all Copper wound, orient grain M6 EI Core OPTs
Special :  SW1X Audio Design™ all Copper wound Super HiB DC Core OPTs
Classic : SW1X Audio Design™ Copper/Silver Windings, Super HiB DC Core OPTs
Signature : SW1X Audio Design™ Silver/Silver Windings, Super HiB DC Core OPTs
DAC V is available in matte Black or satin Silver front fascia and following top panel options:
Anodized Aluminum in satin Silver or Black finish (standard)
Brushed Brass (yellow glow)
Brushed Pure Copper (orange glow)
Paint Finishes any of the ones stated below:
a) satin Audi Metallic Grey
b) gloss Gunmetal Black
c) gloss Porsche Guards Red
d) Black-Silver Hammered Vintage Paint finish
or any automotive paint on special request
Optional Extras:
Fully Hardwired Tube Output Stage on the Bakelite Board
Fine Silver wiring on the Input, Bakelite Board and Output
SW1X Audio Design™ Custom Designed & Fully or Partly Silver wound Super HiB DC core Signal Output Transformers
Super HiB double C-Core mains transformers for the digital and DHT/DHD power supplies
TDA1541R Selected or optional TDA1541A S1 or S2 Selected Crown version
Silver Foil capacitors Inter-stage Signal de-coupling Capacitors
Note: Due to SW1X Audio Design's ongoing research and development process, specifications are subject to change without notice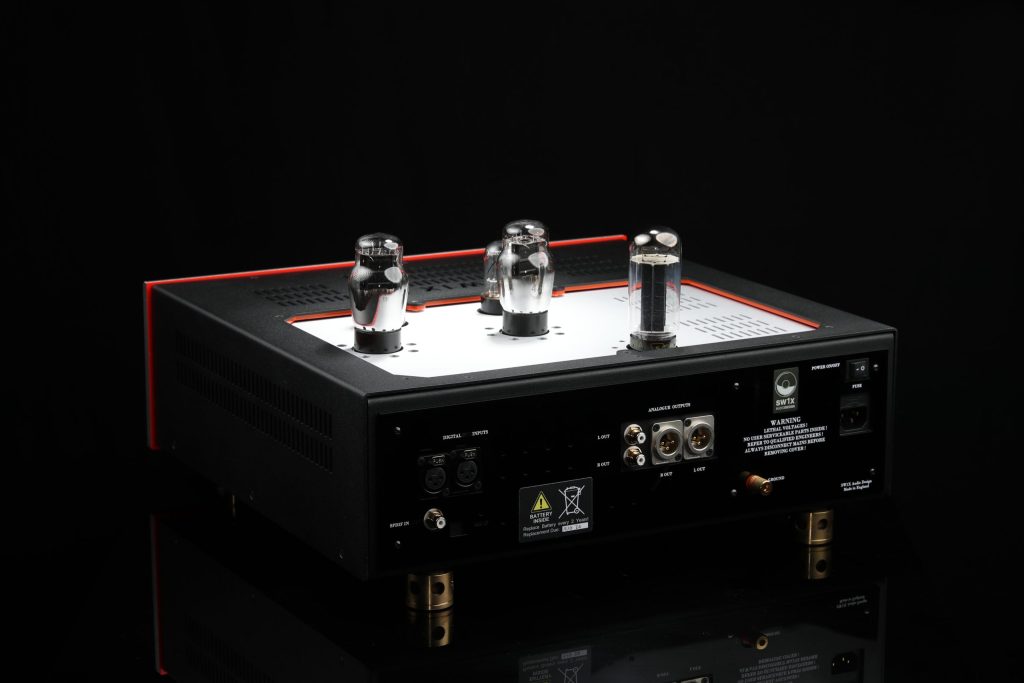 Specifications
Dimensions: Height (mm) 250 x Width (mm) 440 x Depth (mm) 400
Weight (kg): 23
Max Power Consumption (W): 200
Output Noise, Unweighted (mVrms): < 0.5
Output Impedance (Ohms): <100
Products Price List