SW1X Audio Design™ 24 Way Stepped Attenuator Volume Control
Designed and built in house, our new attenuators offer a significant improvement in musicality, transparency & overall organic presentation over any conductive platic pots and any stepped attenutor switches available on the market. The SW1X attenuators are used in all our higher performance level Pre- Amplfier and Integrated Amplifier products but are also offered on separate standalone custom made to order basis. Please get in touch with us and inquire about build details.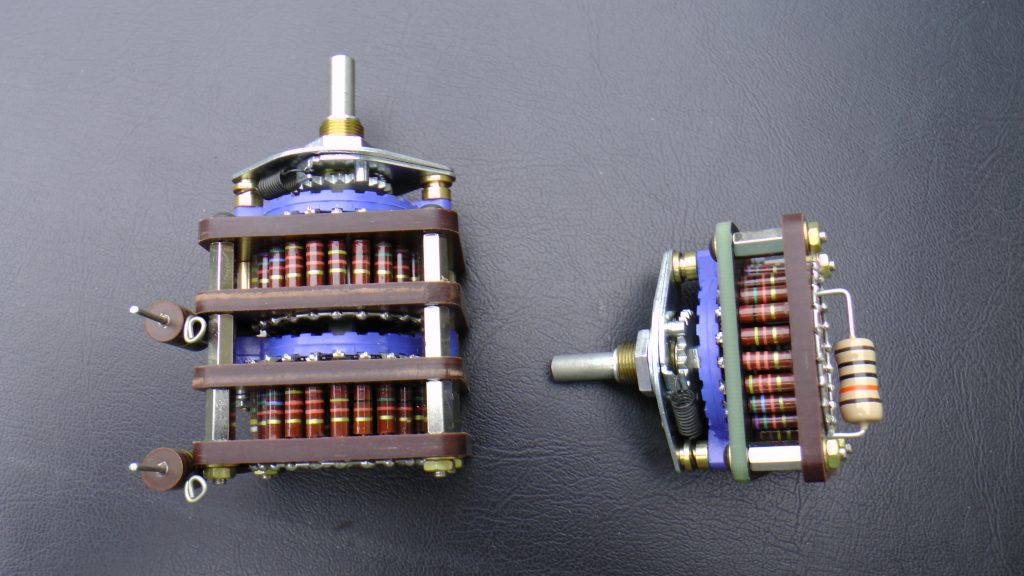 Our stepped attenuators are the most transparent, most natural, dynamic & most importantly musical sounding resistive attenuators money can buy.
That makes them a huge step up from any resistive plastic type potentiometers, which sounds veiled, thinner & synthetic and also anaemic in comparison.
For maximum dynamic preservation all our attenuators are shunt type.
One can order any impedance from 10-250K.
Both Mono and Stereo models are offered in 5 versions:
Black Series, Black Fibre Boards, with Copper ground wire, non-magnetic 0.5W Carbon resistors in shunt, non-magnetic AB 2W resistors in series
Grey Series, Black Fibre/Brown Bakelite boards and Copper ground wire, non-magnetic 0.5W Carbon resistors in shunt, non-magnetic AN Copper 2W Tantalum resistors
Brown Series, with all Bakelite boards and fine Silver ground wire, non-magnetic 2W Carbon resistors in shunt and non-magnetic AN Copper 2W Niobium in series
Gold Series, no expense spared Series, with all Bakelite boards and fine Silver ground wire, non-magnetic 0.5W Copper Tantalum resistors in shunt, non-magnetic AN Copper Niobium resistors in series
Silver Series, no expense spared Series, with all Bakelite boards and fine Silver ground wire, non-magnetic 0.5W Silver Tantalum resistors in shunt, non-magnetic AN Silver Niobium resistors in series
Dimensions:
stereo version: 50mmx45mmx60mm (HxWxD)
mono version: 50mmx45mmx30mm (HxWxD)
10mm thread, 14 or 16mm shaft length and 6mm shaft diameter just like on Alps blue
Prices (GBP, ex VAT) are as follows
Black Series, GBP 450 a pair for the mono version and GBP 400 for Stereo
Grey Series, GBP 650 for 2 x Mono, GBP 600 for 1 x Stereo
Brown Series, GBP 850 for 2 x Mono, GBP 800 for 1 x Stereo
Gold Series, GBP 1100 for 2 x Mono, GBP 1050 for 1 x Stereo
Silver Series, GBP 1500 for 2 x Mono, GBP 1450 for 1 x Stereo